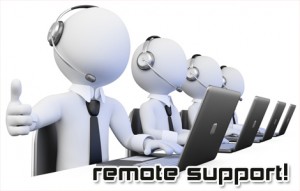 Remote IT support is a very cost effective means of allowing an IT technician, service your computer from an offsite (remote) location. As long as you have an internet connection, you can be supported remotely. IT.ie both owns and operates www.remotesupport.ie where our trained and experienced technicians assist you, the end user, in solving your computer problems, either by showing you what steps to take via screen sharing, or with your permission, taking control of the desktop and performing a task or number of tasks remotely.
What are the advantages of Remote IT Support with IT.ie.
Faster Response
Computer downtime can be very costly to your business and waiting for an IT Technician to show up to your office might not be the most cost effective option. When you contact us via www.remotesupport.ie or www.it.ie, we will immediately triage your reported IT issue and advise on a suitable course of action. With your permission, we will remotely access your computer an aim to have you fully operational as soon as possible.
Remote Access to your IT Systems is Less Intrusive
With your permission, our IT technicians will access your computer remotely. This means that unlike onsite support, you do not have someone invading your personal work space, chasing you out of your chair.
Flexible Support Hours
Flexible support hours allow you to agree a time with our Remote Support Technician for granting access to your computer. Your computer may be experiencing problems but is still operational and you can't afford down time during busy work hours. Why not agree to have the Remote Support Technician remotely take control of your computer while you're on lunch, (once you have given permission for unattended access). It is very likely that whatever issues you were experiencing, will be rectified by our technician when you return to your desk.
More Productive Assistance
Our remote Support Technicians work together to support our clients and each other. What that means to you is that if your computer problem is beyond the skill set of a particular agent, he or she will have the benefit, of the knowledge and skills of their colleagues in our Remote Support Centre.
Cost Effectiveness
Remote IT Support services are less expensive to the provider than onsite support, as it eliminates the cost of travel time, fuel and vehicles required. This allows a provider like IT.ie to pass on this saving to you the customer.
Environmentally Friendly
Remote IT Supports reduces to requirement to have vehicles on the road and thus reduces the damaging effect vehicles have on the environment. Every little helps